HCC: A Tap Away
Published on April 3, 2015
Many times students find themselves under a tremendous amount of stress. There is now an app free to the public that has the potential to relieve some of that stress by giving you access to the school's updates. Launched for the fall semester of 2014 by HCC Webmaster Richard Hubbard, the app has already changed the everyday lives of the HCC community.
"The weather feature has been really popular, and the directory has been very helpful for people looking for their professors' emails and information. I felt that this was an easy way to get the information they need. I don't think many other community colleges have an app quite like this one," Hubbard said.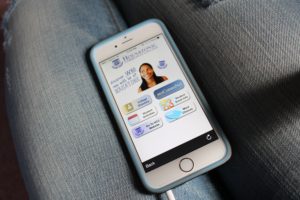 The app was created in order to help students find a more efficient way to access school information and stay connected while doing their everyday duties. The weather feature Hubbard is referring to gives the student an alert/ update on the closings at Housatonic based on the current weather. A weather forecast is not present.
"I really use this app every day. Whenever I'm on the go and I need to log into MyCommnet, it directs me right to the page and it's so much easier than typing it in the URL," said freshman Daniela Alvarado.
Once students download the app, they will be able to experience all of the features that the app has to offer. The program not only has a very modern display page, but it also allows for the user to check in on the college directory, student activities, your student email, and the official HCC homepage.
Students can access the application on smartphones such as the iPhone. For iPhone users, students will be able to find the application in the Apple app store if you type in the words "Housatonic Community College."  For those with Androids, there has not been an app created for the Google Play Store. Hubbard has plans to redesign the HCC website and along with the redesign launch, he will include the launch for the Android app. He will need students to help test out the app once it is completed.
"Once my friend told me about the app I didn't really think that I would use it that often but then the weather started getting bad and I downloaded it to find out about cancellations and I never stopped using it ever since. So helpful," said freshman Cris Tantimonico.
Those who find the app to be helpful have reported a less time consuming way to get into the student email and also find out the latest updates.
If you have any questions about the app or suggestions, feel free to email Hubbard at [email protected].