Medical Assisting Program Takes Flight
Published on April 3, 2015
Housatonic now offers a Medical Assisting Program as an associate in a science degree.  Medical Assistants work alongside practitioners, in mainly outpatient and ambulatory care facilities such as medical offices and clinics.
"Medical assisting is one of the nation's fastest-growing fields today," program coordinator Letizia Morales said. Medical assistants are cross-trained to perform clinical and administrative duties. This program at HCC is 60 credits, and students may be able to graduate in as quickly as two years.
Students who successfully finish the program will function as entry-level medical assistants in the knowledge, skills, and behavioral learning domains.  The medical assistant is responsible for completing administrative and clinical tasks in the offices of physicians, podiatrists, chiropractors, and other health care facilities. The duties vary with the location and size of the practice, and the speciality.
Medical assisting duties also include, assisting with patients' examinations, scheduling patient appointments and preparing blood for laboratory tests
According to the federal Bureau of Labor Statistics, there were 560,00 medical assisting jobs in the country back in 2012. The numbers are expected to increase by 162,900, or 29 percent, by the year 2021. As practices expand more physicians will hire more assistants to perform routine administrative and clinical duties so they will be able to see more patients, Morales said.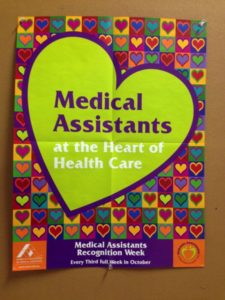 Medical assistants make roughly about $14.12 per hour or $29,370 a year.
Housatonic's program of medical assisting provides courses in: medical terminology, medical coding, and law and ethics for healthcare professionals, to name just a few. Another requirement is a medical assisting externship.
Before the semester begins, students must receive a certification from the American Red Cross in CPR and First Aid. The next semester, the assisting externship comes into play. There are 160-200 hours in a supervised non-classroom setting.  The first weeks of the course are a classroom based simulation to prepare students for the off campus experience. That occurs in the final ten weeks of the semester after completion of all other MED requirements.
"Students should come to HCC instead of a technical school like Branford Hall, or Lincoln Tech to study medical assisting in this is a AS program. The other programs at those schools are only certificate based."
"If a student wants to go further and continue their education they already have a good amount of credits to go towards a BS or BA if they go to HCC. HCC is also a lot cheaper. . . it saves students thousands of dollars," Morales says.
"A lot of people just think it's nurses and doctors," Marlene Beck, an academic counselor at the Bridgeport Hospital of Nursing, said. "There are so many different things you can go into in the healthcare field."