Pump up the Air, Pump Up the Care
Published on December 11, 2015
Training bikes, mountain bikes, original bikes, and regular bikes: Bike-Port Co-op is serving up bikes to Bridgeport's youths, from tots to teens. Tucked conveniently between Read's Artspace and the historic Arcade, this artistic space is doing big things with bikes in the community. Bridgeport Creates' artistic interior is the backdrop for a long row of bikes ready to ride.
"The Bike-port Co-op is a community development bike program for Bridgeport, Connecticut," summarizes the awesomefoundation.org, "Bike-Port replicates the 'earn-a-bike' program model, where youth can earn bikes they wouldn't be able to afford by attending bike safety and maintenance courses and performing volunteer hours with selected organizations."
"Bike-port Co-op is the brainchild of Jacob Robinson of the Office of Sustainability for the city of Bridgeport," says Razul Branch, an HCC alumnus and the head honcho of Bridgeport Creates.
Bike-Port is part of  a program called "Ideas for Us," which is a social activism organization.
"Our Earn a Bike Program teaches kids to fix and repair bikes from top to bottom," Branch explains. Students who volunteer 10 to 12 hours of work to the bike shop will earn a bike, a helmet, and a lock.
Bikeport also works with Spoke and Wheel on East Main Street, which provides everything from tools and parts to donated bikes. "We get bikes from across the state of Connecticut," says Branch. "This is our largest inventory, we have had so far.  We have close to 100 bikes that we are working on, and this year we have given away 27 bikes."
There is a lot of community support for this unique program.  Unquowa Middle School in Fairfield, for example, did a big bike drive for Bikeport, donating 35 donated bikes.
Bikeport Co-op will also be giving bikes away at the end of the month and donating some of the children's bikes to Two Wheels in Norwalk, because they need them desperately for the kids in that area.  
Anyone can go to Bridgeport creates to watch and learn how to fix a bike, or they can bring their bike to their open bike shops and work on their bikes themselves. They also provide bikes services for the community.  Anyone can bring their bike in drop it off, and they will fix it for a service fee.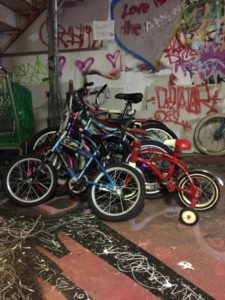 "It feels good, to see kids learn something new. To watch their minds at work as they problem solve, discover, explore, experience, learn and teach others what they are learning is super rewarding and indescribable,"  Branch concludes with a smile of satisfaction.
As the interview concludes, actors begin to file in as the students who were working on various bike projects begin to file out. Branch's contribution to the community as a role model and mentor to many of Bridgeport's youth is never ending.
One can't help but notice that Branch in his Creative studio is much more than a source for one learning experience; he is a much needed staple in the community. Much like his artistic space, he creates not only on canvas, but lends his creative spirit to all those around him.