Keeping the Grounds Safe
Published on April 1, 2016
It's safe to say that students here at Housatonic feel comfortable roaming the grounds due to our school security system. It's even safer to mention that the man in command is as genuine as they come.
Christopher Gough, Director of Public Safety, has served as a police officer at HCC for nearly 14 years and aims to continue providing exceptional security service. Born and raised in Staten Island, New York, Officer Gough grew up with aspirations of serving our communities by protecting it from crimes we hear about on a regular basis.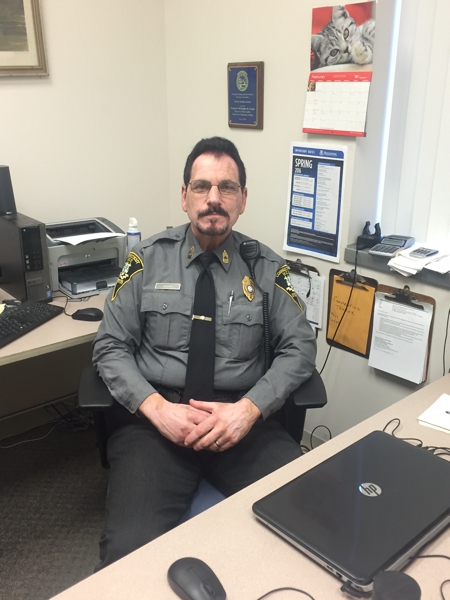 "I've always loved the idea of getting out there to save the world, but realistically it became more of a stability factor in order to support my family," he said.
With 28 years of service as a police officer, he now supervises the security force, which consists of police and state officers including a private security contract.
Was it better working on school grounds as opposed to inner city streets?
According to Officer Gough, "it was a natural progression filled with interesting challenges."  He's previously worked for the Florida school systems as a D.A.R.E Officer and a School Resource Officer, which led him to become familiar with law enforcement and academia. He believes working here at HCC has truly been a tremendous experience and he's overall grateful that the opportunity presented itself.
Away from the uniform and badges, Gough enjoys his free time outdoors and playing sports such as basketball, football, and baseball. He grew up having a passion for baseball and he stays up to date by catching the games on television or purchasing good seats to really catch the action in motion. He has a cork board on his office wall which was decorated with various photos of numerous games he attended.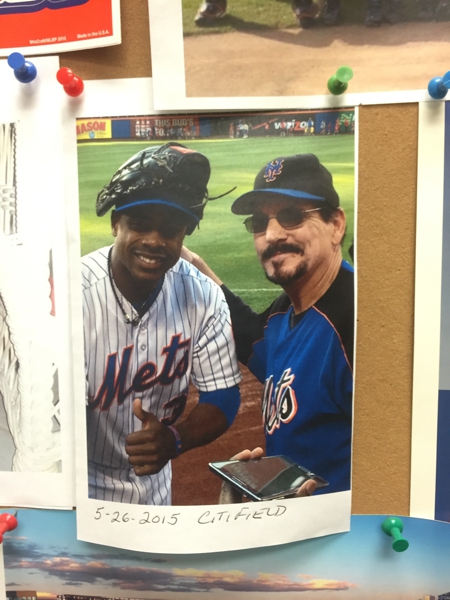 One particular photo stood out, though, a photo of him alongside superstar player Curtis Granderson, who's an outfielder for the New York Mets. After seeing that, there was no doubting his love for the sport. He also had some photos from the times he partook in the sport with his buddies growing up.  
As the student population continues to grow on campus, Officer Gough has no plans to slow down the procedures of maintaining a safe environment throughout the entire premises. He also advises students with this concluding message: "With your help, your eyes and ears, we can keep this campus as safe as it is in the safe learning environment that we have. You're all out there, if you see something and you get that gut feeling and know something isn't right, give us a call. We'll come look at it. Could be nothing, could be something."