The Elite Society's Secrets Revealed
Published on May 16, 2016
While studying at HCC sometimes it is hard to find the time to actually be a community. Either we are rushing to class, heading to work, or trying to pick up the baby from daycare. Whatever we have to do, we are never really allowing ourselves to see how beautiful the diversity of students here actually is. However, "making the grade" can help you discover a secret society where you can have the sense of community we all crave.
Joining the Honors Program can do more for a student than meets the eye. Yes, honors students have a special designation on their transcripts, and get a special recognition at graduation, but it means so much more than this to the students who have actually got to experience the program. Having done so well academically, Honors students get their whole own private community, and are able to meet the most intellectual students here. They are able to be acquainted with the students who have worked as hard as they have, and build great friendships with all different types of students. Some, who you would not have even guessed were in the program!
Honors students also get to be apart of high status events that are only open to people in this program.
For instance, when the fall semester is coming to an end the honors students get invited to a holiday party, dedicated strictly to celebrating their hard work. This can also be a way to meet marvelous resources you may need in your future.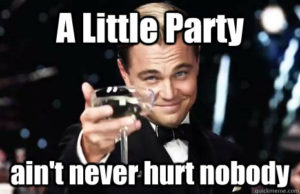 This party is always the talk of HCC afterwards, and it is held at the honors coordinator, and English Professor Kirk Hughes's house .
It is amazing the different types of students who go to this party. You get to meet people who potentially can be lifelong friends of all different backgrounds, ages, and areas, that are around the same academic standing as you. The conversations that are held are just astonishing because they go from speaking at a higher level with peers to chit chatting with them over the chilli about HCC gossip.
Hughes says, "The Honors program helps high-performing students connect with one another." Honors is like having a Hogwarts for students hidden inside our corridors; filled with majestic people, who obviously must have some type of magic inside them to deal with the tough curriculum HCC puts in place.
Another plus, Honors students are offered a class that only they can take called the Honors Seminar, which is credited as a 200 level, and can be counted as a humanities course. (Only offered in the fall semester.) This is where the secrets of honors are revealed to the students, who have been lucky enough to take this course.  
If you are interested in becoming a member of this elite society there is a few things you should know. Students must complete 12 credits with a G.P.A. of a 3.5 to be considered. Once they have done that they must contact Kirk Hughes for further assistance to be accepted into this program.