JoJo's Bizarre Adventure is Epic and Amazing
Published on December 11, 2016
In the modern animation and manga industry, there are few series that are as entertaining and withstanding as JoJo's Bizarre Adventure. That being said, it would seem intimidating to learn that the JoJo story spans eight arcs which have been published from 1987, till the present day. However, that is diluted by the fact that so far, only four of these arcs have been made into animated series. This is unimportant and doesn't matter when watching and enjoying the program.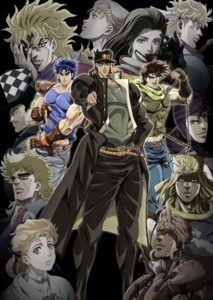 The core mechanic of the story is that each arc centers around a new protagonist who hails from the Joestar bloodline. With each new generations, the Joestar protagonist must face different obstacles and antagonists who relate to their ancestors in one way or another.
Both the original manga and television animation are examples of highly artistic and unique artistic style and character designs. Not once will two characters appear similar. This is thanks to not only the flare and themes each arc presents, but also the various time periods which the series take place in, from England in 1880, to Florida in 2011. All members of the cast will be memorable. It's not a little ridiculous in design or personality.
A major component of the show is its amazing soundtrack and references to bands and artists throughout the show. An example would be the main villain for majority of the series, Dio Brando, whose name sake is the musician. Rio James Dio.
With recently dubbed episodes, JoJo's Bizarre adventure is a fantastic show that a review can not encompass. It is available on legal streaming sites online. If you have a Sunday afternoon doing nothing, give the first episode of JoJo's first arc, Phantom Blood a try, only to find yourself on the last episode of its latest animated arc, Diamond is Unbreakable.