Come Celebrate Writing Day Today
Published on October 16, 2018
Today, Tuesday, October 16, Housatonic will be hosting its annual "Reading Day." According to the HCC homepage, "'Reading Days' are used as study days and/or… make up class time." Classes will be canceled, but students can use this day to study, to make up any missing work, or to work with tutors in subjects that they may be struggling in.
Karyn Smith, an associate professor of English and the coordinator of HCC's Writing Center, says students will also be able to participate in the fall "Writing Day" event, part of the larger, college wide "Reading Day."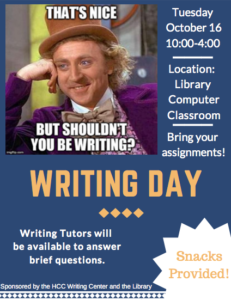 Smith explained that HCC's Writing Day will be held in the new library computer classroom from 10:00 a.m.- 4:00 p.m. She said the purpose of the Writing Day is for students to come in with questions on papers they've written and be able to ask writing tutors for assistance.
"Ideally, [writing tutors] only answer short questions," said Smith. She explained that there usually one or two tutors working at a time, so students are able to walk in and ask questions regarding things like formatting a paper and checking grammar. Students can meet with a tutor for about 5-10 minutes, but because there are not enough tutors, they can't walk in with intensive questions like brainstorming an essay, or writing a conclusion, which would require a tutor to work one-on-one with the student. (Those looking for a more intensive tutoring session should make an appointment in the Writing Center.)
Smith said that last year was the first year of the Writing Day program. "Last year, I came up with the idea to turn [Reading Day] into Writing Day with the idea that some students, especially English 101 students ….are going to have something that they need to do."  
Last year, the Writing Center booked the library for the session and since then, it has "become a program that we do twice in the fall and once and the spring."
She also explained that snacks like granola bars will be provided for students who come to the library to take advantage of the Writing Day.
For more information about HCC's Writing Day,  contact Professor Karyn Smith, and look for flyers posted around campus.