How One Track Coach Helped Me Defy All Odds and Live My Childhood Dream
Published on May 7, 2020
Standing at about 5'5" tall during my Freshman year of high school, I had worked tirelessly to assert myself as a local basketball superstar. Unfortunately, my genetic makeup basically decided to cease any and all of my properties of growth only a few months later. Prior to the start of my first high school basketball season, I decided that staying in shape and outworking my fellow athletes would give me an edge over my competitors. Therefore, cross country seemed like a suitable option to allow me time to goof around, immerse myself amongst new students, and  develop the strength in my legs. After I had built a wonderful relationship with the long distance coaches, they gathered the sprinting and jumping coaches together, to set in motion a recruitment plan to have me join our school's track team. 
Now, before I go any further, the only information that these guys had on me was that I was quick and a fairly versatile athlete. However, as they stepped into the gym for the first time, I can still vividly remember their jaws dropping to the floor, as well as the astonished expressions that had painted their faces. I threw down a one-handed tomahawk slam dunk during our warmups, which was commonplace for me, but an odd sight for anyone else. Keep in mind I was about 5'5" tall at this time and had been dunking since about eigth grade. Yet, my whole life I believed this ability to levitate and rise over my opponents was only a useful trait to have in the sport of basketball. That was, until Coach Sean Tait pulled me aside mid warm-up, with his eyes nearly bugging out of his head, he said to me, "You're jumping for the track team, you don't have a choice and you will be a state champion. No questions asked." 
Well, before meeting Coach Tait, or any of the track coaches at Trumbull High School, I had separated myself from other athletes by adopting the coveted "mamba mentality." This motto was coined by Kobe Bryant, who is renowned for his winning spirit, undying motivation, and willingness to succeed at all costs. My dad claims that I had instilled this desire within myself after watching Kemba Walker hit his famous step-back buzzer beater to beat Pitt during the Big East tournament. Later that day, as a 10 year-old, I went outside during a horrendous thunderstorm to parallel that infamous step back for hours on end. From that day forward, it was set in my mind that I was going to be an athlete for the University of Connecticut, no matter the circumstances! I even placed a bet with my father that same day, stating that If I were offered a Division I scholarship for any sport, he would have to purchase the car of my dreams. 
Flashing forward to my junior year of high school, I was told by the Varsity Basketball head coach that I was simply too small to be an effective player on the court. The only thing running through my mind in that moment was "F**k that guy, I will prove to him that he made the biggest mistake of his career by throwing me to the curb." Unfortunately, this was my first major battle with depression. Although I was too young to realize it at the time, the signs were obvious. By this time in my track career, I had already been named All-State twice, won our conference championship on multiple occasions in both the long and triple jump, and was starting to garner not only statewide, but nationwide attention for my accomplishments. However, none of this mattered to me, I worked daunting hours trying to perfect the craft of basketball for 10 years of my life, and the results were quite the opposite of what I had expected. The only person who understood my drive and personality was Coach Tait. He recognized my ailment immediately, and knew exactly how to light the fire to ignite my prolific track career. 
If I had never been forced by Coach Tait to join the track team my freshman year I would have undoubtedly spiraled out of control and ultimately abandoned my aspirations of becoming a big name athlete. During a time when I had lost all faith and confidence in my ability to succeed, Tait was there to pick me up and show me the light at the end of the tunnel. Unbeknownst to me, Tait had been avidly calling, emailing, and writing to college coaches, professional trainers, and former Olympians pleading to them that I was worthy of being granted a spot on their teams. During a time when I felt worthless, Tait saw untapped potential and value that I could not even recognize within myself. He went as far as to reach out to Trumbull High's former record holder in the long jump, and the current sprint/jump coach for High Point University in North Carolina, Max Coleman. Tait begged him to return home and guide me through offseason workouts, which he graciously accepted, stating, "If anyone is breaking my record, I'm sure as hell going to be his coach!" Having someone in my corner constantly fighting for me, giving me personalized attention, and treating me as if I were his own child, gave me hope that I can once again bring my dreams to fruition.
From the time I was a freshman, Tait decided that I was his personal pet project, his pupil and his favorite student athlete. Every single track meet, he encouraged my teammates to allot a time of minimal distraction, which would allow me to build my psyche and become laser focused. Furthermore, despite the fact that there were more than 25 separate events, lasting over 5 hours, Tait never left my side. He wanted to make sure that my mark and amount of steps were perfectly precise, leaving room for absolutely no errors. He constantly accompanied me to the long jump, triple jump and high jump, yet it was his level of dedication and admiration towards me that elevates his status in my mind as the best coach and mentor that I have ever had. Even if I were competing against some of the worst teams in the state, Tait forced my teammates to gather around the pit and cheer me on every step of the way. He knew that my goal was far greater than simply placing first every meet; he realized that I was gunning for our school, conference and state records every time I stepped on the runway, and supported my decision no matter the competition. 
Under the guidance of Coach Sean Tait, I was able to achieve what I once thought was a lost and unattainable goal and life dream. For example, I had broken my trainer, Max Coleman's school record by jumping 23'3" (his record stood for 10 years at 22'10", my record has been in tact for 3 now), I was named All-State a total of 9 times (5x LJ and 4x TJ), qualified for Nationals on 5 separate occasions, won conference titles about 10 times, won state championships and finally felt the gratification from college coaches receiving interest from over 30 division I schools before committing to the University of Connecticut. In spite of all of this, I owed a debt of gratitude to my leader.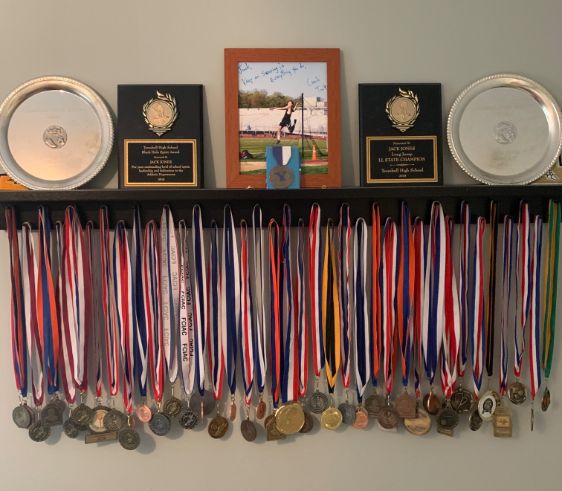 My junior year I was diagnosed with Osteo Chondritis Dissecans in my left knee, meaning that my cartilage and bone in that area had horrible degenerative properties, but that did not matter. My goal was to bring Tait the Coach of the Year award that he definitely deserved and desperately worked to obtain for 20 years. During my four years on the team, we went 12-1 every year, yet our coaching staff never gained the praise they deserved. Therefore, I decided to put my physical health on the backburner and grind my way through the long 5-month season. Although the FCIAC deemed the Danbury head coach the award winner of the season, I made it my personal mission to reach out to him and explain my personal circumstances and how much Tait has done for our squad. Without hesitation, our rival coach agreed to send me the plaque and present it to Tait during our end of year athletic ceremony. After this emotional presentation, I had pulled Tait aside and explained to him that my knee was beyond the point of recovery, but it was all worth it to bring him the glory he deserved.
Even though Doctors urged me to never run again on a competitive level, I did not listen, I knew that I would get to UConn one way or another. My college coaches at UConn were stunned by the news and virtually revoked my scholarship, telling me I could stay on the team my freshman year as a red-shirt freshman and work with their physical therapy staff to help me recover. As the season progressed, I realized that the coaches did not treat me as an athlete with loads of potential, but a waste of their time, money and a spot on their roster. For the first time in my life I was deemed clinically depressed and was suffering from suicidal ideations. Even before calling my parents, due to my increased levels of nervousness and anxiety, I decided to call Tait and ask for his opinion on what I should do moving forward. He reassured me multiple times that I had not only made him proud, but the entire town of Trumbull, and if I decided to hang up my track spikes, no one would hold any resentment towards my decision. So, I left the University of Connecticut, and accepted a paid position as the jumping coach for Trumbull High to help bolster my self-esteem and confidence, which would hopefully bring balance back to my life; and that's exactly what it did. 
During my first season as an outdoor track coach, I treated all of my athletes, no matter their level of talent, just as Tait had treated me. I brought an outstanding sense of team mentality to my unit of jumpers that was unmatched by anyone in the state. I had sent the most jumpers to our conference and state finals in our school's history. Yet, none of this would have been possible without Tait teaching me what it means to show devotion and care towards any individuals. Whether my athletes were struggling, or in a state of bliss, I knew that I had to be present for my athletes, just as Tait was by my side for 4 years. Although I was not able to fully live out my dream of being a star athlete at UConn, the guidance and lessons that my coach had taught me, meant much more than participating at the next level of competition. I will never forget everything that Coach Tait has done to positively influence my life.